Create Interactive Calculators And Apps Without A Single Line Of Code
With Visyond's Interactive Slides, in addition to powerful presentations, you can create interactive calculators/apps, such as ROI calculators, and securely share them with stakeholders without exposing the spreadsheet - you decide what they can see or interact with!
Click to see more subdirectory_arrow_left

Play With The Assumptions With Ease

Interactive Calculators and apps are a

great way to let your stakeholders test their assumptions

, answer 'what-if' questions and play with the numbers without ever touching or modifying the carefully crafted spreadsheet.

Select input and output cells from the spreadsheet, place them on the slide, throw in some charts - and it is done!

Click to see more subdirectory_arrow_left

Share Only What Collaborators Or Clients Need To See

You can

share the whole presentation or just a few individual slides

with selected stakeholders using Visyond's unique

Selective Sharing

feature without exposing the spreadsheet and any sensitive or unnecessary information. Stakeholders can then safely test their own assumptions without breaking or ever seeing the model and calculations.

And, of course, you can always export the presentation to Powerpoint.
Get started in minutes
A flexible and familiar spreadsheet interface that is cross-compatible with Excel
Low entry barrier - Visyond is easy to use and learn
Full transparency and control over your data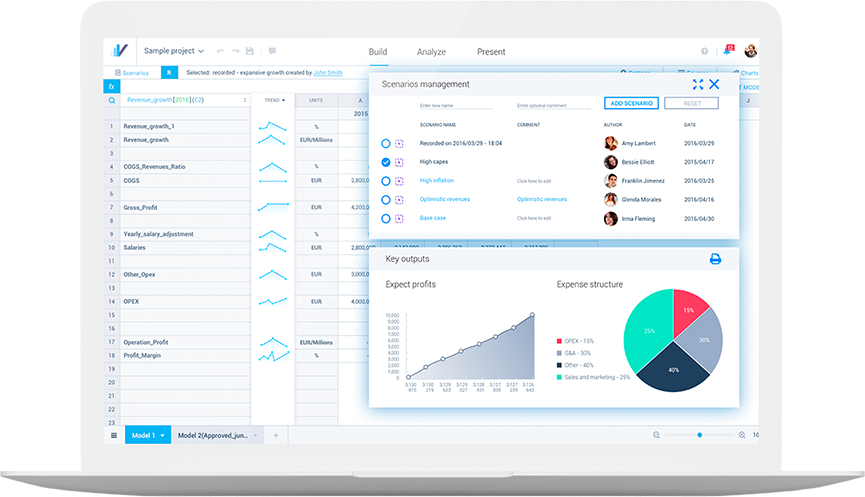 Find out how to improve your decision-making process today
request a demo