Create And Securely Share Powerful Interactive Presentations
Visyond's Interactive Slides are an elegant way to present data from your spreadsheets - information is always up to date, as each slide automatically syncs data with your spreadsheet. Interactive elements such as input fields and charts allow stakeholders to test their own assumptions through a safe and simple user interface.
Click to see more subdirectory_arrow_left

Replace Powerpoint Static Visualizations

Interactive Slides will allow you not only to visualize the data but also provide a

secure environment for your stakeholders to play with assumptions

.

When you change an input field you will see charts and calculations updated and automatically synced just for you and it will not affect anyone else's views or the underlying spreadsheet.

learn more

Click to see more subdirectory_arrow_left

Share Only What Collaborators Or Clients Need To See

You can

share the whole presentation or just a few individual slides

with selected stakeholders using Visyond's unique

Selective Sharing

feature without exposing the spreadsheet and any sensitive or unnecessary information. Stakeholders can then safely test their own assumptions without breaking or ever seeing the model and calculations.

And, of course, you can always export the presentation to Powerpoint.
Get started in minutes
A flexible and familiar spreadsheet interface that is cross-compatible with Excel
Low entry barrier - Visyond is easy to use and learn
Full transparency and control over your data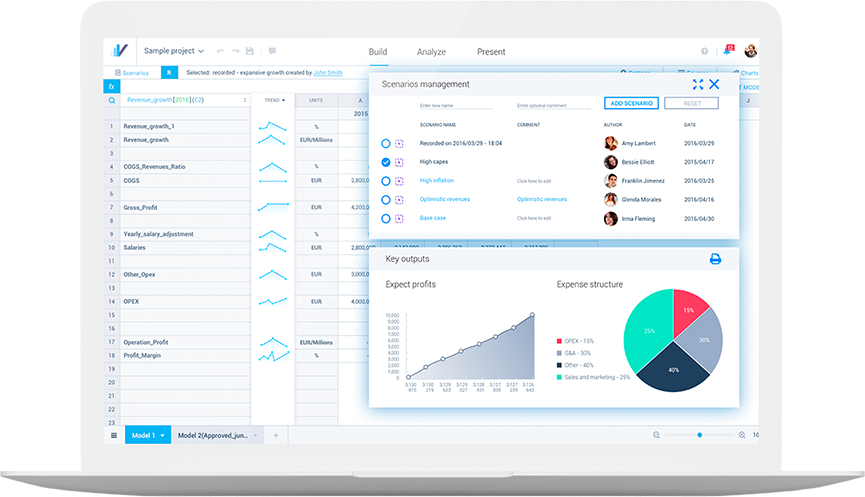 Find out how to improve your decision-making process today
request a demo