Risk Management Software for Banks - Better Lending Decisions, Higher Portfolio Profitability
As a banking professional, you might often face these key challenges: ad-hoc model preparation & auditing requires inadequate time, lack of tracking & control over data changes and inputs, manual stress-testing and workflows, and having supporting information scattered around in endless threads of back-and-forth emails.
https://www.youtube.com/embed/q8WLu0gHzFE
Streamline Financial Modeling & Reduce Risk of Errors

Visyond provides a safety net that helps in auditing the spreadsheet, improving the quality of your models and avoiding accidental mistakes
Automated debugging solutions such as Error Root Cause Analysis will save you hours

Share Only What Each Stakeholder Has To See

Share the whole project, certain worksheets or only specific parts of a worksheet, whole presentations or specific slides without exposing any other data, conversations, attachments or calculations
With this, data gathering and consolidation is much faster, safer and less prone to errors, unwanted changes or accidental data leakages

Answer What-If Questions Anywhere In Real Time

Quickly compare different assumptions with an interactive chart in in a few clicks without depending on experts live in the meeting room

Stress-Test Your Models Efficiently

Manage risks and stress-test your models with Visyond's automated analysis module:

Remove Bottlenecks and Empower Stakeholders To Test Assumptions

Answer 'what-if' questions in real time without going back to the spreadsheet or the modeler.
Visualize different scenarios with Visyond's interactive presentations - assumptions can be tested directly in the slides without exposing or changing the spreadsheet's content or structure.
With Visyond, you no longer need to maintain separate presentation layers on top of the spreadsheet
Why Visyond?
Less Risk - More control over critical information
Fewer errors and higher productivity - Automated and standardized workflows
Better Customer Experience - Quicker turn-around and modern collaborative interface
Lower switching costs & quick time-to-value - Ready out of the box, compatible with legacy systems, does not require full-scale transition & can be adopted incrementally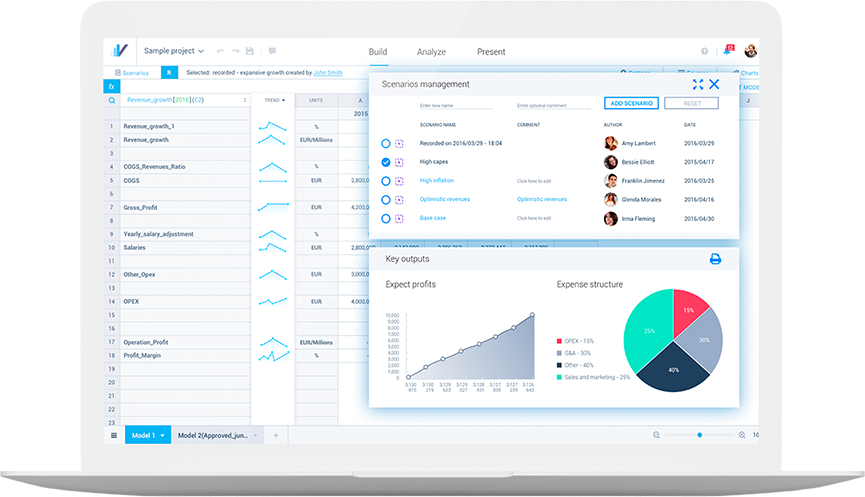 play_arrow
Find out how to improve your decision-making process today
Request Demo