Visyond For Interactive, Spreadsheet-driven Calculators
Create Interactive Spreadsheet Calculators and Securely Test Assumptions
Get what no other spreadsheet-based technology can give you.
Do in minutes what takes you days now.
Why Visyond?
With Visyond's Interactive Slides, in addition to powerful presentations, you can create interactive calculators powered by your spreadsheet data and Visyond's calculation engine, such as ROI calculators, and securely share them with stakeholders without exposing the model's logic and calculations or sensitive information.

With Visyond, You Can
Answer 'What-if' Questions with Spreadsheet-driven Calculators

Always up-to-date interactive dashboards.
Self-service 'what-if' calculators.
Stress-testing without touching the spreadsheet.

Create interactive, spreadsheet-driven calculators and dashboards, and share with each stakeholder only what they need to see or interact with.

Empower collaborators to test assumptions independently and self-serve on 'what-if' questions, while shielding them from sensitive or unnecessary information.

Learn more

Change assumptions and visualize how changes affect KPIs
Don't worry about introducing accidental errors since changing data on the dashboard does not change the model

Decide Who Sees and Interacts with Specific Worksheets and Dashboards

Secure data sharing and IP protection.
Granular access control.

Make collaboration easier, safer and less error-prone. Eliminate the risk of accidental changes and data leakages by sharing only specific worksheets, reports and interactive dashboards with specific people.

Learn more

Have better control over information flow and data privacy
Shield specific collaborators from sensitive or unnecessary information
Empower stakeholders to self-serve on 'what-if' questions without interacting with the spreadsheet directly
Simplify data gathering by sharing data-entry worksheets with collaborators without having them see the rest of the spreadsheet
Get Started Today
Cloud or on-premise platform and Excel add-in
Easy to use, no complicated menus to learn
Get started in minutes
Get Started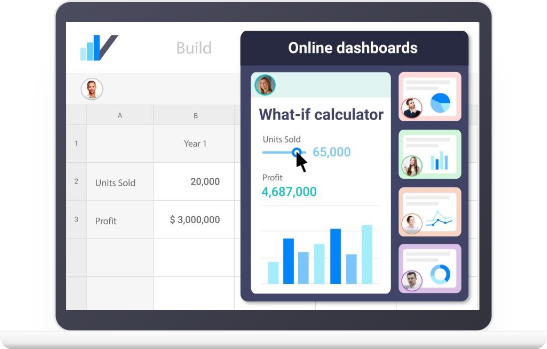 play_arrow