What is Visyond?
Single collaborative spreadsheet, analysis and presentation platform connecting, automating and tracking everything whilst safeguarding sensitive information
Why Visyond
Decision making requires modeling, analytics, knowledge management, data visualization and reporting tools:
analysts, experts, clients, CxOs must collaborate with strict requirements on data security and governance.
Without Visyond, the process requires multiple platforms and causes the following problems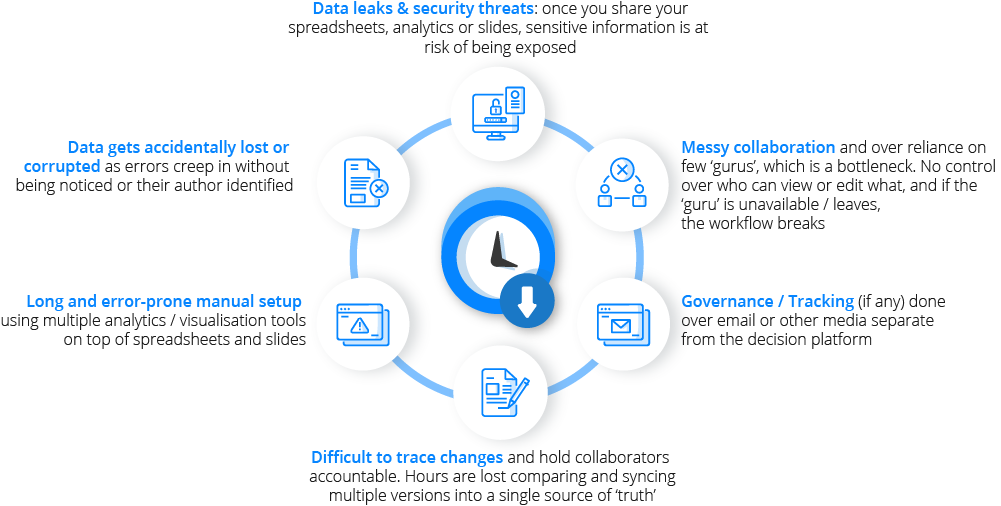 Enter Visyond
Secure Selective Sharing of a Single Source of Truth
Secure data by sharing only sub-parts each collaborator needs to interact with.
Track all changes, comments, support information in one place.
Transparency, governance, accountability, knowledge management.
Collaborative Automatic What-if Analysis in Real Time
Do in minutes what takes you days now.
Collaborators contribute analyses in one document, not their version.
Data Visualization in the same place where you carry out calculations.
Automatic, spreadsheet-driven presentations and reporting.
Minimum Learning Curve and Compatibility with Excel
Keep your work habits & leverage Excel skills in a familiar environment.
Custom workflows, integrations and on-premise installation available.
Automated and standardized workflows.
Save up to 80% of time on routine tasks

Reduce average cost by $420 per employee/month

Significantly reduce errors
So Why Visyond?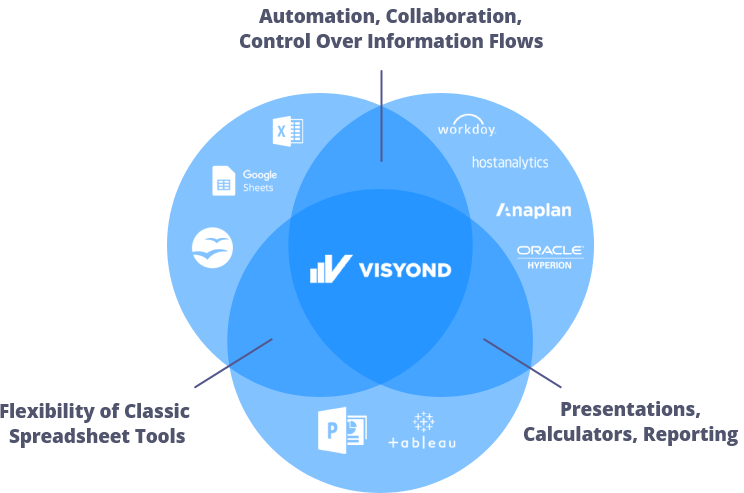 Visyond Enables Collaboration, Security and Automation at
Every Step of Modeling, Analysis & Presentation for Decision Making
Collaborators view or edit only selected parts of projects
without being exposed to unnecessary details or sensitive information.

Single source of truth is established by tracking inputs, history of changes, scenarios, sensitivities, simulations,
conversations, and supporting documentation in a single place that tells a story where nobody can overwrite other's work.

Analyses, presentations and calculators, dashboards and reports are dynamically driven by spreadsheets,
built and shared in minutes without experts or moving data across tools.

Risk of errors is reduced with on-the-fly 'What-If' analysis, Financial Statements, KPIs, Pivot Tables and Cubes.
How We Compare to Others?
| | | | | | | |
| --- | --- | --- | --- | --- | --- | --- |
| | | SPREADSHEETS + ADDONS | COLLABORATIVE SPREADSHEETS | FILE SHARING TOOLS | DATA VISUALIZATION | FINANCIAL APPS |
| Spreadsheet, debug and audit | | | | | | |
| Selective sharing and workflows on a single source of truth | | | | | | |
| Collaborative what-if analysis in real time | | | | | | |
| Spreadsheet driven interactive presentations and reports | | | | | | |
| Cost / Value | | | | | | |
Get started in minutes
A flexible and familiar spreadsheet interface that is cross-compatible with Excel
Low entry barrier - Visyond is easy to use and learn
Full transparency and control over your data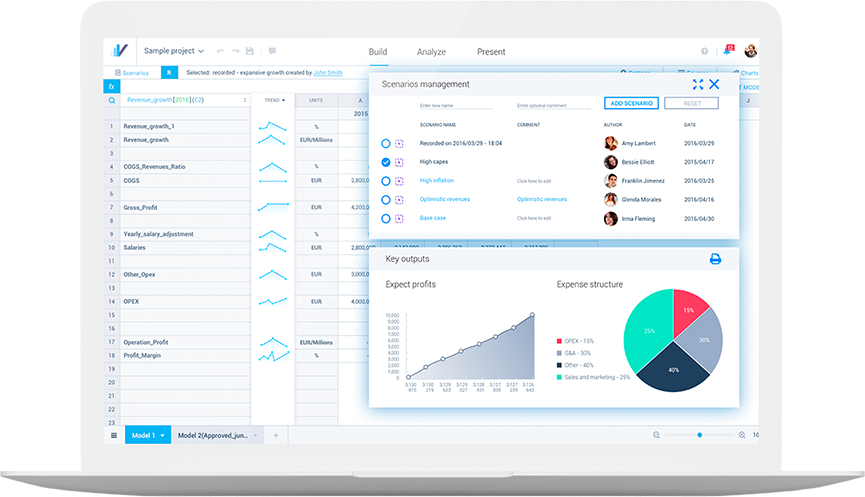 play_arrow
Find out how to improve your decision-making process today
Request Demo